About Burst SMS Gateway Offering To Australian Businesses
Burst SMS was selected from a wide range of Gateway SMS services because of its capability to run multiple high speed connections to its clients. With over ten year's experience in the SMS field, it has distribute over 250 million text messages in a very efficient manner taking on around 3 minutes in real time to get to the end point customer. This Australian based gateway service provides access to its SMS API or the use of its online SMS Campaign Manager system.
The SMS Gateway Comparison Table provides an outline overview of the features offered by Burst SMS and compares them with other major gateway providers.
View the full Burst SMS review focusing on price, features, reliability, customer service to other SMS Gateway providers below.

Pricing for Burst SMS Gateway services
This Gateway provider has a pre-paid pricing policy so that you know in advance what the charges you will incur prior to distribution of SMS. For small number of SMS the pricing is expensive but as the volume of SMS increases then the pricing is lower. They offer four ranges of pricing schedule starting from 500+ SMS for starters and an Advanced category for 5000+. This is followed by a Business category for 25000+ SMS and for their largest volumes, the price is still set. In the case of large volumes, the price with GST included is 5.4cents for each text message sent.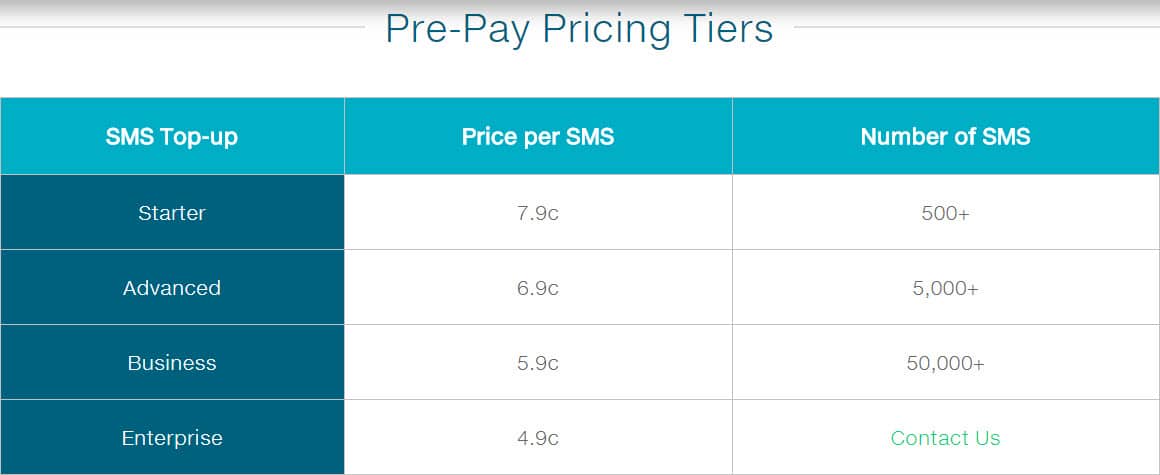 It needs to be noted that there is no lock in contract, no set up fee and no monthly fee charged for the use of their services.  If you use the dedicated virtual number facility then there is a monthly fee dependent on the type of service required.
Features of Burst SMS Gateway Services
One of the features of Burst SMS is its high performance gateway that means it has access to the major telecommunication carriers in Australia whether it is Telstra, Virgin Mobile, Optus or Vodaphone. These carriers are all reliable and easily accessible through Burst SMS network system. The major of its use is through the Telstra carrier network.
Burst SMS uses these high speed telecommunication connections to provide clients with the opportunity to send large volume of text messages within short time-frames. This is reinforced by their highly advanced load balancing queue prioritisation that will ensure the fastest possible delivery of text messages to individual mobiles.
This provider is able to provide with a detailed delivery report on all its accounts allowing the client to review all mobile phone delivery confirmations and bounces close to real-time.
Another important feature is Burst SMS API is that it is designed to integrate into any communication process. This means that developers can send and receive text messages from the application of their own choice with ease. The API servers are not shared with any other SMS gateway which results in text messages and responses to be sent quickly and with a high level of reliability. A call back system is available to receive inbound messages. Clients can form their own contact lists, set up keywords and schedule messages
Burst SMS offers online Web SMS platform, email to SMS, two way SMS as well as SMS Marketing. Such variety of additional features makes this provider a stand out as one of the better services for sending text message in Australia.

What support service does Burst SMS provide?
From Burst SMS website, it can be observed that this provider is very transparent in its encouragement to talk to clients. Burst SMS has a customer Help Desk on either toll 1 300 012 014 contact number or by Email. Skype and Facebook chat are also available for discussion purposes.
Burst SMS offers a 14 day free trial which is an additional feature that a number of comparable gateway providers do not offer potential clients.
Reliability of Burst SMS Gateway Services
This Gateway provider claims that its high sophisticated SMS software will result in a 99.9% server uptime. They do have a 100% SMS message delivery to the carrier guarantee or the client will get their money back. This provides assurance that in most times the message will be sent on time as requested.  Their platform has delivered over 250 million text messages.
Equally as important, knowing that text messages are anti- SPAM complaint and security is a priority are policies in place on Burst SMS website. Monitoring of their servers on a 24/7 basis where the data is backed up on a daily basis. As a standard feature, it has a list cleaning service which will clean a SMS contact list when it is imported and can reformat numbers when they are in different styles.
A dedicated virtual numbers is another feature of Bursts MS providing clients with assurance that you will be sending SMS from a number exclusive to the client's business. This is especially important with sending marketing campaigns so that customers know who you are and you can receive valuable feedback from the customers.

About This SMS Gateway Comparison Table and Site
The authors of this site, who worked with leading gateway providers in the text message service, decided to provide free of charge a SMS Comparison Table for ease of understanding what SMS Gateway providers offered, they initially selected over ten providers.  After further investigation and review this list was narrowed down dependent on superior features, pricing, reliability and customer service.

The Gateway Comparison Table is prepared independently of gateway providers. It sources information from their websites and tabulates the information in a simple to use and understandable format. Should you find any information is outdate or incorrect, please let the authors know and changes will be made immediately.
This service is free of charge, however, should you use the Comparison Table and review the site and then engage one of these providers, the authors would request a commission from that specific provider. As you will see there is no advertisement or promotions on this site.