Why Our SMSGlobal Review Rated The SMS Gateway Provider Well
From an in depth analysis of the features and services of numerous reputable SMS Gateway providers in Australia, our SMS comparison review found good value to Australia enterprises based on SMSGlobal offers including
Competitive mass and bulk SMS pricing;
Ability to service both mid-size and large companies and organisations;
Good customer support on a 24/7 basis;
99.99% uptime reliability;
Flexible API platforms; and
Ability to distribute text messaging services globally.
SMSGlobal began in 2007 and now has 5 overseas offices (Croatia, Dubai, UK, New Zealand and USA)
View the full SMSGlobal review focusing on price, features, reliability, customer service in comparison to other SMS Gateway providers below.

Pricing for SMS Global Gateway Services
Comparing SMS Gateway providers in Australia, a key strength when assessing SMSGlobal for review purposes was its competitive pricing structure for the text messaging service.  Depending on volumes prices range from 5 cents to 10 cents a text message that is sent. SMS Global ensures:
Competitive mass and bulk SMS pricing
No set up fees,
No contract,
No monthly fee, and
No third-party billing.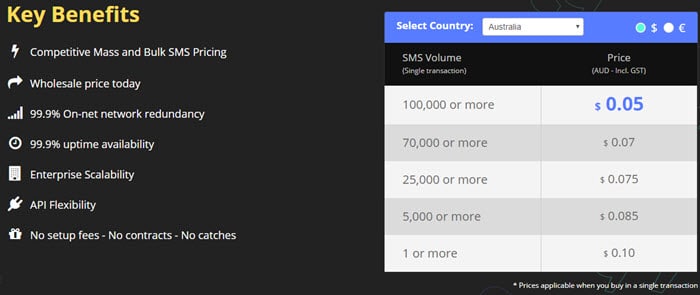 The best value is for mass distribution which would benefit companies that have large number of contacts. However, it does offer SMEs but at a more expensive rate for each SMS but this is very much  dependent on the volume distributed. So in the case of a small distribution of say 100 SMS, the cost would be $100 or 10 cents for each text message.  For SME that distribute 10,000 SMS the cost is reduced to 8.5 cents per SMS while 40,000 SMS is reduced to 5 cents per text message. Prices are applicable when the business or organisation buys in a single transaction.
Compared to other SMS gateway providers in Australia, its pricing schedule is slightly more expensive. Take the example of ClickSend which offers for 10,000 plus SMS on a monthly basis of 6.0 cents and Wholesale SMS of 5.5 cents for each SMS. For lesser volumes of 2000 to 5000 SMS, ClickSend charges 6.5 cents while Wholesale SMS charges 5.9 cents per SMS.
To send a text message you only needs a PC, Mac, Tablet or Smartphone with internet connectivity. There is no downloads, installations or hidden development costs. There is a section in SMS Global website that will give you charges for sending SMS overseas.
Online SMS Global Reviews
Recently, SMSGlobal scored 5.9 from 108 reviews from the leading review website Trust Pilot.

ProductReview site displays SMS Global with a very poor 1.8 rating from 19 reviews.
Reviews versus other providers is compared and presented in the graph below.
Features of SMS Global Gateway Services
When it comes to ensuring that a text message service (SMS) is effective, it comes down to two factors, namely ensuring the message is distributed efficiently (known as Uptime) and the time it takes for a SMS to get to the mobile phone (known as Latency). In some cases, there is no urgency to reach the end point while in other cases such as SMS verification code of a bank or a scheduled meeting it will be critical. In the case of SMS Global, their strong performance is its high ability to meet the expectations of the client or company when required.
To send a text message it only needs a PC, Mac, Tablet or Smartphone with internet connectivity. Requires no download, installations or hidden development costs.
Our SMS Global review found it has an advanced SMS gateway and APIs platform software to send online bulk SMS and group send SMS to help meet any business solutions whether it is:
Advanced Web Platform – using the web, that clients are familiar with, to upload contacts without the need for special software to send text messages.
E-mail to SMS – ability to integrate leading e-mail software to send SMS.
Flexible API – using their in-house sophisticated software to distribute SMS.

SMS Global has a cloud-based and user-friendly web SMS platform (known as MXT) that will give businesses and organisations access to their SMS gateway. It is compatible with any wen browser so that it is easy to send and receive text messages nationally or globally from any internet connected device. The flexible options allows to integrate mobile messaging into the business operations such as applications, websites, intranets, CRM's, ERP's and other corporate software, providing a real-time SMS capability to existing business applications.
From SMS Global perspective, the benefits of a flexible API integration to a text messaging system is because it allows one way or two-way messaging to occur to your target audience. This ability to send SMS to other major Australian and global networks and then receive responses from the mobile users is an effective way of knowing how the communications has been received. This also leads the tracking of SMS exact time period that it is received, providing the organisation or a client with an audit trial. A delivery report can provide an audit trail showing the two-way communications when an outbound message is sent and received and whether SMS have not been delivered.
Their web messaging platform MXT allows to engage your audience with targeted campaigns and streamline processes by using SMS in your workflows. Advanced features like campaign comparison reporting, data segmentation tools and intelligent keyword based reply rules make it simple to create tangible results. No other platform compares.
All this can be done with their reliable and efficient gateway that will directly route to Australian telecommunication providers or to their aggregators, if required. 
Customer Support by SMS Global
One of the significant features of SMS Global is its valued customer assistance support service on any technical needs. It has a 1300 number available for discussion on a 24/7 basis. This is supported by email contact, an extensive knowledge base, pop screen for discussion and a live chat opportunity.  All these contacts as well as Twitter, Instagram, LinkedIn and Facebook make this provider very open to providing the best customer accessibility as possible. On SMS Global website, there is the availability of Video tutorials to also assist.
Knowing that this provider has its base in Melbourne Australia, the time factor and language will not be an issue to Australian organisations wishing to discuss matters whether they are engaging their services or discussing matters relating to the text messaging service.
SMS Global offers a free trial to test their product and services but no mention of the number of free SMS compared to its competitors that display the number of free SMS for trial purposes.
By looking at their wide variety of customers or clients and online SMS Global reviews, the reputation from past and present users is most admirable in comparison to all other competitors. Examples include Microsoft, Etihad, IBM, ANZ, Suncorp, AFL and Macquarie Bank.
Reliability and Compliance of SMS Global Gateway Service
To be assured that your SMS messages have been distributed reliably, a premium direct gateway is the way to go. The SMS is delivered directly to a major reliable telecommunication provider such as Telstra, Optus, Virgin or Vodafone which are routed into a mobile network system. This Tier 1 carrier-grade SMS gateway offers quality and security to clients and customers. Most of SMS Global world's mobile carrier networks are accessible through their SMS Global gateway thereby providing global reach using one provider.
Reliability depends on the Uptime Guarantee and in the case of SMS Global, it offers a 99.99% uptime which means their performance is of a top level provider. It is confident that its quality of service provided to its customers is second to none.
SMS Global has a Service Level Agreement (SLA) that ensures that its delivery of text messages will be met with a 100% Network Redundancy available. Should there be any network disruption or path failure, it has the technology, infrastructure and availability of additional routes to send the message.
SMS Global is SPAM compliant, meeting the Australian Commonwealth regulation of Spam Act 2003. The law requires that companies do not send unsolicited electronic messages. This applies to SMS through any gateway requiring the consent of the business or organisation and that all SMS need to identify the type of business they are. They have a functionality system in place to allow for any subscribed to be easily removed from the list of contacts.
Our SMS Global review focused on the terms and conditions features a definitive privacy policy which details acceptability to all users of the system. Security is highly recommended via SSL which is available without any additional charge. Global SMS can also provide a secure Cisco IPSEC VPN connection for additional security should the business or organisation request it to connect to the provider's gateway.
The only policy that could not be found was no mention of their policy with respect to the General Data Protection Regulation (GDPR) on data protection for all individuals that also addresses the export of personal data.
About This Text Message Gateway Comparison Table and Site
This SMS Comparison Table was developed after extensive research into a wide range of SMS providers that offer gateway services.

The developers of this Comparison Table and associated site, who were experts in the SMS field before moving into other communication areas, felt there was a need for readers to be able to easily and clearly identify what they needed to know about gateway providers before engaging their services.
The information provided was sourced from providers' websites. Although the information was presented as accurately as possible in time of publishing, changes can be made by the providers without any notification so the authors encourage you to always check the provider's website. If you do find some information that does not match as displayed in the table or site, please let the authors know so that alterations can be made immediately.
It should be pointed that no advertising can be found on the SMS Comparison Table or corresponding site.  However should you use this free service and then engage the services of SMS Global from this site, the authors may request a commission from this provider.
The authors hope this SMS Comparison Table and site is beneficial to you.
SMS Global
SMS Global Offer Text Message Gateway Solutions For Australian Businesses
Rating: 4.8
Reviewed by Alain Grossbard