SMS Tech Overview
SMS Tech is an Australian SMS gateway provider offering a whole range of services that would suffice both the small to medium size businesses end of the market to the large volume distribution side of larger organisation text messaging demands.  SMS Tech offers a reliable, secure and fast SMS gateway that will allow all types of marketing and promotions to be used with services such as healthcare, retail, education, institutions, sporting clubs as well as hospitality.

This SMS provider only offers a hybrid SMS gateway to help get your message across rather than the more expensive direct gateway carrier. With this latter carrier system, a text message will be sent within Australian shores and be delivered directly through either telecommunication giants such as Telstra, Optus, Virgin or Vodafone. This type of connection is critical for immediate required messages to be sent out or where privacy is a concern such as PIN numbers via SMS or for any fire alert. It should be noted that our SMS Tech review found they provide multiple gateways and routes at a cheaper rate to ensure the best value and delivery times.

Such services and features make SMS Tech reputation as a well sought after text messaging service provider. It is rated highly from a reputation point of view by the authors of this site.
Prices Of SMS Tech Vs Competitors
SMSTech has prices based on delivery starting at 5.2 cents per SMS based on minimum of AUS$5000 spend and 100,000 SMS. However for a lower volume of text messages distributed, the price escalates to 6.9 cents per SMS based on a minimum pf AUS$500 spend and 10,000 SMS.
This SMS gateway provider pricing are prepaid and easy to top-up. There is no set up fees, no monthly fees and no contracts.
While SMS tech is competitive, there are cheaper providers in the market as shown below.
Is The SMS Tech Gateway Suitable For Larger Organisations?
For large organisations with large customer, employees or client bases, they need is for reliability, security and speed of distribution. SMSTech employs multiple gateways and routes, which is essential to ensure high-speed message delivery all around Australia.By utilising a combination of direct and hybrid gateways, it has provided the assurance of maintaining a very high reliability of SMS by a certain time.

This is done through direct carrier access to Telstra and Vodafone networks, while Optus traffic is routed through a top-tier Australian aggregator service, allowing to reaching out to customers nationwide. Multiple gateways and routes will enable the provider to offer good value and reliable delivery to all national carriers. It states that it provides 99% gateway uptime guarantee.
Our SMS Tech review found this SMS gateway provider is Melbourne based and has a substantial market share competing with other players. It services a number of significant Australian clients including Deakin University, DHL, RSPCA, The Salvation Army and National Tiles.
Its reputation lies in that SMS Tech is able to provide instant web-based SMS through your browser. It does offer ready made scripts and will ensure you are connected to their SMS gateway network in Australia as well as having the ability to receive inbound text messages direct to your applications. Furthermore, its dedicated technical support team will respond to all enquiries to resolve issues as needed. All these factors should be considered when deciding on which company you wish to engage.
From the review of SMS Gateway providers, SMS Tech is seen to focus on large volume text messaging service by means of a timely and effective system and therefore more likely to be received by customers, employees or clients than leaving a phone message or an email. SMS Tech is a gateway provider that will allow all types of marketing and promotions to be used with services such as healthcare, retail, education, institutions, sporting clubs as well as hospitality.
Should SMEs Consider SMS Tech Gateway?
From a small to medium size business perspective, the availability of knowing that SMS Tech is able to provide:
Free trial up to 25 messages to trail with no credit card needed
Available to discuss with just a local phone call away
Australian support service, based in Melbourne since 2005
Distributes around one million message on a daily basis
No set up fees. No monthly fees. No contracts.
The technology is easy to use. By using your favourite email client such as Outlook, you can streamline and automate your SMS. SMS Tech has a powerful SMS API designed to allow software developers to integrate an SMS service into an existing system.
Combined with a reliable Australian gateway support, SMS Tech's products will suit the SMS messaging needs of SMEs.
For SMEs will value scheduling or sending messages instantly to individuals or to a list of contacts either from your business name or a mobile number is a matter of ease. Additionally to be able to receive SMS replies to online inbox and forward replies to email as manage contacts in online address book, making it easier to send regular updates is all part of the features offered to SMEs on an ongoing basis.
For the above reasons, the independent review of SMS Tech is rated highly against its competitors with respect to SME value.

 What Support Level Is Offered?
SMS Tech provides a sales and technical staff during business hours that will help you with your needs, including the best advice to enable you to use our SMS marketing tool efficiently and effectively. It has a customer service focus which is located in Melbourne so there should be an ease of communication within Australia should there be an immediate need to any inquiries to resolve issues.
They claim to be able to respond to all inquiries and resolve all support issues. They do provide with their plans the availability of training sessions as well as a training video.
This provider does provide an analytics Report which tracks the number of SMS distributed over a period of time as well as unsubscribe levels in an easy readable format.
There is a 1300 number available as well as an email address site as a means of communication or a need for a live chat on a SMS product or service issue. . There is no blog facility to be able to respond or provide reviews. A free 25 credit to start you is offered by SMS Tech.
Reliability and Compliance
Our SMS Tech review found that this particular company is as reliable as its SMS competitors. They state that provide a 99% gateway uptime guarantee which indicates a very high reliability of SMS being sent on time and with great efficiency. You can send SMS from anywhere
When comparing all the SMS gateway providers under investigation, it was considered that SMS Tech provides an easy, reliable and efficient method of sending an SMS from a computer and taking into account all factors of distribution assurance.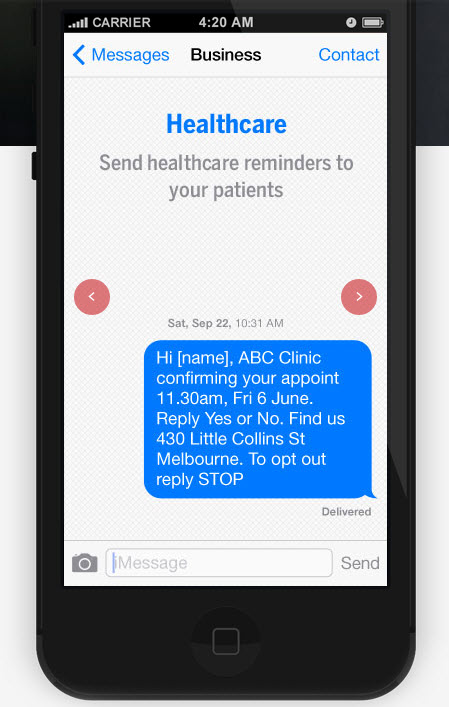 It does have a 99% uptime gateway through a Service Level Agreement (SLA) that should provide this near certain guarantee as a reassurance. It should also be noted that it provides multiple gateways and routes through its national delivery system to all Australian major carriers.
From a compliance perspective, the SMS Tech site does cover at length all the Terms and Conditions as well as issues of SPAM and Privacy. This provider has an extensive Privacy Policy which details the protection of privacy of those using their services and they implemented policies and procedures to ensure this protection. It can all be found through the site map at the bottom of the site. Although easy to access it is not really user friendly. There is good information from the Queensland government when it come to text message compliance for Australian businesses.
Online Reviews
There are no online reviews that could be found on SMS Tech site. There is no facility to be able to blog or provide review comments. There are no reviews provided on the site to allow people to read comments from clients or customers.

About This SMS Tech Review & SMS Gateway Comparison
This SMS Gateway review has been prepared so that you can easily identify and compare the types of services, products and features offered by the range of Australian SMS gateway providers. This has been done through professionals who have worked in the SMS field but no longer are doing so. This means that they have the independence to be able to impartially analyse SMS companies.
The information has been structured into a simplified and easy to follow format so as to provide you with key information on key selection criteria as outlines above.
It should be stressed that the information provided on this site should be used as a guide only as prices and features may be updated at any time by the SMS Gateway Australia providers' websites without any prior notification.
If you find any information on this website to be incorrect or out-of-date, please contact us and any changes will be made promptly. Please be aware that the authors of this SMS review take your privacy extremely seriously and will not ask for any personal details.
The SMS Gateway review is provided for free to assist you, however a commission may be given from the provider's site if you click through their website and engage their services.
Latest update on 10 April 2018