directSMS review  
Direct SMS is considered to be regarded as a one-stop shop for a business communication and marketing needs, offering an easy-to-use range of SMS text services. This provider offers online and relatively cost effective SMS which will allow you to send and receive SMS from any web enabled computer, whether it is sending messages to customers, staff, clients or specific organisations, it just involves one simple step with no setup required.
This company provides a Web 2 SMS system which is an ideal solution for customers who want to send and receive SMS messages immediately. There is no software required to install, no licence fees to pay, it is just an easy to use web based solution with an Australian customer service support.
How does this SMS system work? Basically, directSMS Email to SMS service just requires you to type your message or promotion into the email client (such as Outlook, Lotus Notes or Gmail) and then sending it. All you are required to do is send the email to @directsms.com.au and through its API and gateway will forward as a SMS to any one or group of specified mobiles. All replies for two-way messages can be routed and returned to the sender's email inbox or mobile phone.
                                                                                                   
Value of using directSMS
Features
directSMS is jam-packed with features that go above and beyond your basic email to SMS service as displayed in the SMS from Computer Australia Comparison Table.
Some of the features can offer:
Personalised SMS messages by adding first name, last name or other customised details
Two-way SMS messaging – contacting the customers and being able to receive their replies if requested
Mail merge SMS placing a personal touch or customer specific information to a message
Schedule SMS – sending a text message at a certain time when required
Mobile marketing module helps the business build a customer database , very suitable for marketing campaigns.
Any time you want to receive picture or multi-media messages from your customers, staff or students, DirectSMS can provide an inbound MMS service. They can do all the things the inbound SMS service can do, with the addition of receiving any pictures, videos and any other multi-media files. It is one more option in reaching a constantly connected population. Just like SMS, MMS messages are received free of charge. You only need to pay for an MMS enabled dedicated number to receive text messages.
The suite of directSMS APIs (Application Programming Interface) makes it easy for developers to integrate SMS messaging into their applications and/or systems. Therefore, as a software developer, you no longer need to build your own billing or administration functionality around the SMS services your products offer. With directSMS, you can get to market quicker and save months of development and testing time.
And for a complete explanation of their multiple features, they offer a SMS page overview, which discusses several topics, including their latest clients and upgrades to their services. They also provide a free trial (60 free SMS) to the service which will appears the first time you log in. This is far better offer than the other competitors. It has even an immediate pop-up screen asking you if you want to chat about their offers and services.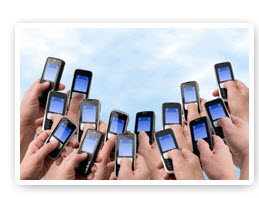 Reliability
This SMS from Computer provider is totally web based, which means there is no software to install or to crash your computer.  There is no need to go and build an SMS platform from scratch. The client can simply re-brand directSMS' portal with their own logo and own colour scheme. It's an instant SMS platform. All you need is a web browser and Internet access. directSMS will save your contacts, and set up groups to manage your contacts. This will mean that send to the groups that you have setup within a short period of time.
This SMS from Computer provider has a Guarantee SMS service for all the business real-time and mission critical applications.  It can provide 100% uptime service level guarantee which is very reassuring and worthy of consideration but at a cost. If time is not essential, its StandardPLus SMS service offers a good return still with efficiency and effectiveness.
Direct SMS provides a number of other complimentary features such as computer 2 mobile, keyword response sms .
Price
Our DirectSMS review of SMS from Computer Australia providers found it is one of the most expensive providers as shown in the SMS from Computer Comparison Table.  To provide you with a snapshot overview of a comparison table of charges on SMS messages distribution on a monthly basis. In general, directSMS is between 15% to 30% more expensive per SMS than other text message providers investigated.

It does have unlimited credit validity, no contract, no cancellation fees and discount may be available. A free trial is available to see how effective the system functions. It does offer a Money-Back Guarantee.
Pre-paid billing is available if the usage fluctuates on a monthly basis. The pre-paid credits never expire and one can purchase credits as required. However if your usage is regular, then a monthly plan is a better option. The rates are cheaper than pre-paid and you will receive more features.
Reputation
directSMS is an Australian-based SMS provider which offers all year round SMS service with an Australian support centre. With the number of valued features outlined, our directSMS review found them a reputable company and therefore worthy of serious consideration.
It offers a multifactor authentication which prevent online fraud, cyber-crime and indsutrial espionage.
Because their pricing is dearer than their direct competitors in the sms domain, this matter needs to be considered prior to engaging DirectSMS. Having a 60 free sms trial prior to engaging the provider may be a bonus to attracting prospective client.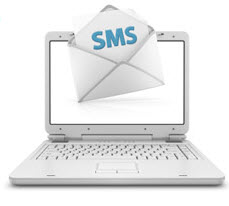 DirectSMS has an impressive list of clients including brands such as Jetstar, QBE, Allianz, nab, Elders and LJHooker to name a few.
About This SMS from Computer Comparison Table 
The SMS  Cheap SMS Provider Comparison Table was developed to identify and compare the services and products offered by the range of SMS from Computer providers through means of an independent yet well analysed SMS Comparison Table.
The information has been categorised into a simplified, readable, and easy to follow tabulated format so as to provide you with key information on key selection criteria such as message distribution costs, networks availability, customer service support, credit availability, and so on.
It should be stressed that the information provided in the table and our DirectSMS review should only be used as a guide as prices and features may be updated at any time by the cheap providers' websites without any prior notification.
This SMS Australia Comparison Table is provided for free to assist you, however a commission may be given from the provider's site if you click through their website and engage their services. There are no forms of advertising on this site and the authors have made price and other key features the selection elements that have led to the recommendations made on the site.
Latest update on 28 May 2018