DirectSMS Gateway Overview
DirectSMS is one of the reputable SMS Gateway provider in Australia that offers:
Web to SMS using any web-enabled computer

No new software required to be installed

Dedicated customer service support either by email, live chat or by 1300 number
100% money-back guarantees
features including Developer API, inbound MMS, 

computer to mobile, keyword response SMS 

Availability of a free trial

DirectSMS reputation can be observed with over 8,000 Australian businesses engage this SMS gateway supplier as regular users covering both SMEs and large companies such as Jetstar. QBE, Elders and NAB as shown by their logos below

The provision of a seamless integration with any gateway provider in Australia supported by a local customer support centre, our DirectSMS review found them to be a most reputable company and therefore worthy of consideration as a gateway supplier.
Is DirectSMS Gateway Suitable For Large Organisations?
With large Australian organisations and businesses more than likely requiring to distribute text messages in significant quantities usually on a monthly basis, there needs to be a reassurance that SMS gateway providers have the sophisticated systems and platforms in place so as to assure a reliable and efficient service. Having the ability to provide a totally web based system that requires no software from the client means that it is fool proof with no crashing of any computer. This is what all enterprises want to know about. The only requirement for a client is a web browser and, of course, access to the Internet.
With large companies as well as SMEs, DirectSMS is able to save and store contacts and form groups to manage such contacts. Sending SMS to specific groups of people can happen effectively within a short time frame.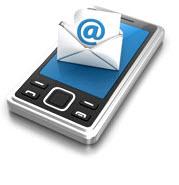 Additionally, DirectSMS has the capability to send and receive pictures or multi-media SMS from their customers, clients or employees, which means that inbound MMS service is available, if required. Therefore, this SMS gateway company can provide various ways of constantly connected to any group or section of the total population.
In terms of pricing schedules presented by major SMS gateway providers in Australia, there is great variation in costs and conditions. In terms of DirectSMS, it provides a four level pricing schedule as displayed below.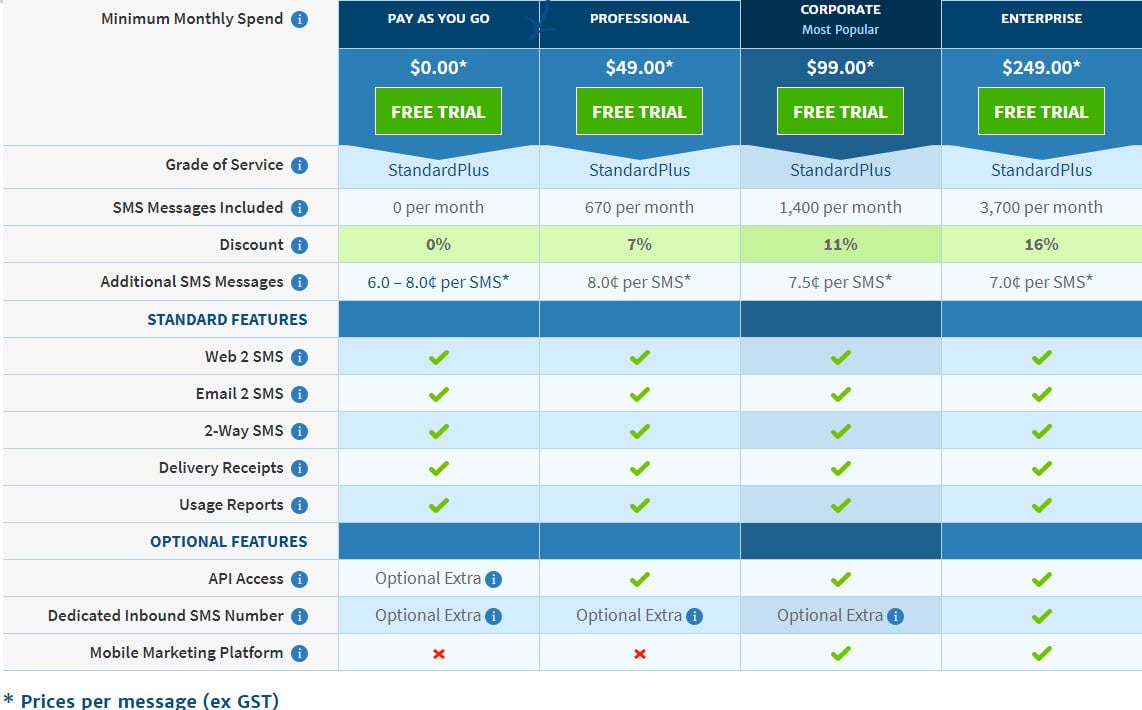 The charges of around 7c (ex GST) per SMS can be negotiated after the initial 3700 messages are sent each month for marketing and communications. There are different costs dependent on the requirements.  Every SMS is fully supported by DirectSMS's 100% money-back guarantee.
The issue is that such costing presented is basically for SMEs and no direct costing is outlined on their website for those organisations with the need to send tens to hundreds of thousand of SMS each month. Therefore, from the aspect of charges, larger companies that distribute text messages in large volumes, there is indication that a special pricing scheme would be tailored to make text messaging affordable. The DirectSMS gateway pricing scheme may or may not be competitive with other gateway providers of the same magnitude but no detail is provided.
The business will need to pay for an MMS-enabled dedicated number so that messages can be received immediately. One of the great added value is that a client can brand the DirectSMS portal with their individual logo and colour format.
As can be seen from the graph below, DirectSMS is rated lower on a suitability scale.
Should SMEs consider DirectSMS Gateway?
DirectSMS has the capability and provision to assist small to medium sized companies in Australia who want an SMS gateway that is reliable, easy to operate and cost effective. Not only does it provide an easily manageable and fully integrated API platform to use, it provides a support service through a customer care service number 1300 number during business hours, the ability to have a live chat and, of course, email correspondence for action. Their two-way communications processes can be complemented by the uploading of an address book, any personalised messages that is required with the opportunity to record usage receipt of when the SMS was delivered.
DirectSMS has ensured that all costs associated with the dissemination of text messages are available on request and completely transparent dependent on the needs of the company's action for matters such as promotions, reminders, or customer being notified about issues. To make it evident that the costs are fair, reasonable and equitable the SMS charges are related to the amount of texting that are sent on a monthly occurrence. It is the awareness of the needs and cost restraining factors of SMEs and therefore endeavours to cater at best with SMEs needs and demands. The DirectSMS Gateway costs are on average a little higher than other SME gateway specialist firms and you should consider before deciding which gateway provider you wish to engage. 

The unlimited credit validity is an added advantage over other competitors and with the provision of 100% money back reliability guarantee can be considered to be a bonus to SMEs. There is no contracts, no cancellation fees and in some cases, discount may be available.
DirectSMS rates well as a possible SME gateway provider.
 What Support Level Is Offered?
DirectSMS provides a 1 300 729 387 number although doesn't state if this is a 24 hour number, so one needs to assume its availability during business hours only. It provides an email contact process as well as Facebook, Google+ and Tweet. Additionally, this gateway provider has a set of training tutorial videos to assist in the set up of these SMS services. Such service would benefit both large and small businesses. DirectSMS provides an anti-spam system that meets security and privacy regulatory standards for all its SMS distributions.
This Gateway provider is based in Sydney with a local customer service and from all accounts, its support ranks highly among its competitors in the SMS gateway field.
Reliability of DirectSMS
The reliability of DirectSMS is illustrated by their uptime 100% money-back guaranteed, their high quality performance and positive customer satisfaction. With no software required by any client to crash their computer the chances of something going wrong is minimal.
Within DirectSMS reliability framework, they provide a very visible and confident SMS page overview, which discusses openly clarification on their systems and processes, including the latest client upgrades to their service.
This company provide a free trial (15 free SMS) for those interested as first time by just logging. An immediate pop-up screen assists in knowing about their offers and services. DirectSMS is rated very well in the reliability category.
Compliance of DirectSMS
From a compliance aspect, DirectSMS does outline their privacy policy, terms and conditions. It is not easy to find and the way they present is not so user friendly. There is reference in their Terms and Conditions to oblige to the laws of NSW.
DirectSMS is compliant with the requirements of the General Data Protection Regulations (GDPR) and has undertaken a review of its data collection, storage and security arrangements and has implemented various system changes to reflect the data security and privacy principles entrenched by GDPR, including individual's right of access and right to be forgotten.
directSMS understands the fundamental importance of data security and privacy to its customers and end users of its services, and will continue to review and update its systems and compliance policies and procedures following the commencement of the GDPR.
Online Reviews
Our DirectSMS gateway investigation found that it openly welcomes reviews and consequently publishes extract of reviews from their client organisations. They offer a Blog page for contributions to be made and that is worthy of consideration.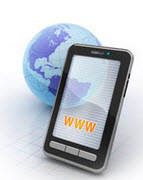 Undoubtedly, reviews are partly affect the reputation they receive. But reputation is also measured by the products and services they efficiently and effectively provide as well as the variety of large and SME companies they service over a length of time. Obviously, if clients are pleased with such service and their gateway service features offered than this will inherently have an impact on DirectSMS reputation. The independent research done on SMS gateway providers showed that its reputation and reviews are rated highly.
About this SMS gateway comparison site
The SMS Gateway Comparison study and resultant table and associated site were developed to provide a comparison of the features, products and services through an independent assessment of what was available prior to deciding as to which gateway provider meets your SMS needs.
The authors' DirectSMS gateway review needs to be used as a guide only since changes to their site can happen any time without prior notice by the SMS gateway providers .
The details provided on this site are available free of charge so as to help you decide on which SMS gateway provider you may wish to select. A commission may be requested from DirectSMS should you click into their website from this site with a resultant engagement of their services.
This site was updated on 16 January 2020