About SMS Solutions Gateway Offering
This SMS gateway provider, SMS Solutions, began ten years ago in Australia, by a group of technically minded people with sound knowledge of marketing and promotions, understanding what the customer wanted to do with the information provided.

SMS Solutions provides:
Specific plans to suit the client's needs
Dependable SMS software that can be easily used
Accessible from MAC/PC, IPad/Tablet or smartphone
27/4 support available
No contracts
No minimum terms

View the full SMS Solutions review focusing on price, features, customer service to other SMS Gateway providers below.
Pricing structure offered by SMS Solutions
SMS Solutions provides a pricing schedule to meet the needs of the client whether it is for small numbers of text messages sent to large volumes constantly sent, with the lowest possible cost plan offered. There is no contract and no minimum terms.
Like a number of their competitors they offer four categories of pricing ranging from Basic to Starter to Business and for large volume distribution there is an Enterprise category. The prices vary dependent on the volume that is being sent each month.  It should be stressed that it based on a monthly distribution system.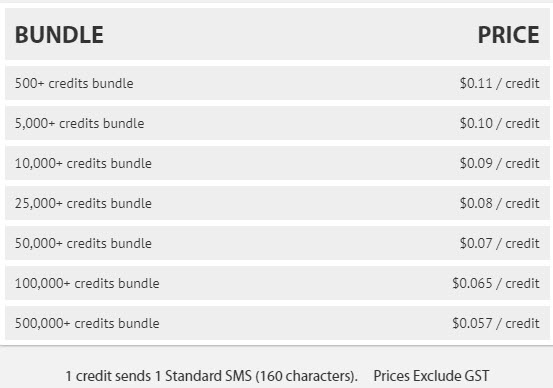 There is the opportunity to cancel or upgrade or downgrade at any time and it is best to discuss this matter with customer support personnel. There is the availability of designing a pricing package to suit your needs.
It should be noted that there are two levels of pricing dependent on which carrier is used. Overseas carriers (known as Hybrid) are cheaper than Australian ones (Premium).  You should add around 20 to 30% more if you use an Australian telecommunication carrier. The latter is more reliable and visible and better assurance that any critical message will be delivered as required.
All SMS Solutions have a reply number included in their published plan costs.
Features of SMS Solutions as a Gateway Provider
One of the main features SMS Solutions is its claims that it has the capability to be able send small volumes as well as large volumes of half a million text messages using its SMS software platform from any computer, tablet or mobile phones. Its WebSMS allows anyone to use their easy to use web interface to send text messages straight away with no download required.
It states it has a highly efficient, enterprise-quality SMS gateway that has the ability to convert any website, systems, or an application into a hosted SMS platform. This means that you can send and receive SMS through their gateway carrier system. However, there is no mention of their telecommunication carriers, whether they are Australian carriers or overseas ones (Tier 1 Premium or Hybrid). This would affect the time and reliability of transmission.  The SMS Solutions platform is currently configured at an outbound speed of approximately 5000 text messages per minute.
SMS Solutions have their own SMS API platform which is flexible and allow the client to add SMS functionality to suit any requirements, whether it is for small and medium size organisations to large companies. Its API will allow sending out text messages automatically by a simple integration process. There is the capability to report on the status of the messages sent and received.
Other features that SMS Solutions offers include Email to SMS whereby text messages can be sent directly though the email system to as many people as is required with no need for any special software.  Bulk SMS is available for those who deal in a large number of people for events, marketing campaigns or promotions. SMS Solutions service will be to accommodate such volumes at any times. Auto-replies are also a feature where the client can request pre-defined replies from customers so that a respond can be provided if required.

What support service does SMS Solutions provide?
SMS Solutions offers a range of customer support services for present and potential clients. They stress the quick deployment and technical support is available should there be a glitch in the system. There is a 1 800 number that offers a 24/7 service which is better than many of their other competitors in the SMS field.
There is either a Live Chat support option or via phone available on their website if there is a need for some technical assistance on the spot unlike some other SMS gateway providers where there is only an online form to request assistance that could take a day or so to respond.
The site has a very good blog site that provides a range of valued information about SMS that could be useful for new and present clients to understand more about the versatility of their service.
SMS Solutions works a wide range of prominent clients across all sectors from small one person businesses up to multi-level franchise businesses with hundreds of outlets whether it is government agencies, universities, corporations, and not-for-profit organisations. Some examples include ToyWorld, Autobarn, Flight Centre, Queensland Department of Health, Victoria Police, Greenpeace, and Red Cross. See their website for a fuller range of brands.
Reliability and Security of SMS Solutions
Reliability is a major issue and if a decision is made to use a hybrid system of carriers this may affect the timing of recipients receiving a text message. SMS Solutions does state that it has a reliability uptime guarantee of 99.99% which is very good. They have load balancers should there be high traffic volumes that need to be managed.
There is no evidence in the SMS Solutions website of any Service Level Agreements to outline the reliability of its services.
This provider uses the world leading security data cloud based storage facility. However, there is no evidence in their website of being SPAM complaint and no policies and procedures on privacy and meeting regulatory requirements.
About This Text Message Gateway Comparison Table and Site

The feedback from prospective clients for a suitable SMS Gateway provider lead to the authors formulates an easy to use and understandable comparison table and sites that provided details to make an informed decision.
The authors used their expertise to develop this SMS Comparison Table with the best selective criteria that would be important for people to know about.  As a result, this SMS Comparison Table and associated sites are now available free of charge.
It should be known that the authors had worked in the SMS field for a number of years but are now in different communication areas, are independent of any text messaging company and therefore unbiased in their presentation of the critical areas that need to be considered before engaging a suitable text messaging supplier. You will also note that there are no forms of advertisement on the Comparison Table or sites.
If you use this Comparison Table and sites and click onto one of the supplier's sites and then engage them as your supplier, the authors will ask this supplier for a commission.
Should any of the information provided to be out of date, please advise the authors and changes will be made immediately.